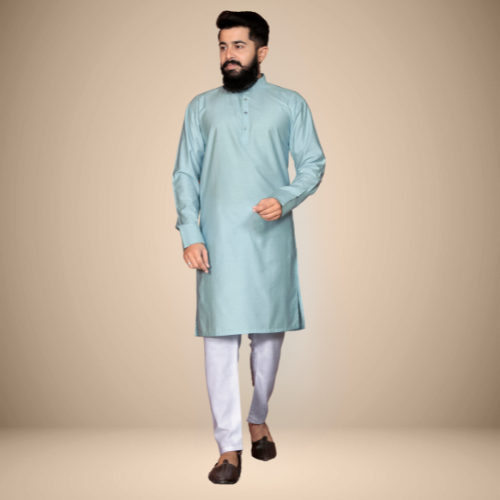 Elevate Your Style with Timeless Kurta Pajama Ensembles
     In the world of men's ethnic fashion, the kurta pajama stands as a timeless emblem of sophistication and cultural richness. The elegance of this traditional attire lies in its simplicity and versatility. A kurta pajama effortlessly merges comfort with style, making it the perfect choice for various occasions. Crafted from high-quality fabrics, these ensembles are tailored to perfection, ensuring a seamless blend of tradition and contemporary fashion.
Embracing Tradition with Men's Kurta Pyjama Sets
     Men';s kurta pyjama sets are a testament to the rich heritage of Indian clothing. The kurta, with its straight lines and graceful silhouette, pairs harmoniously with pajama bottoms, providing both freedom of movement and a touch of tradition. These sets come in a spectrum of colors, from classic whites and beiges to vibrant hues, allowing wearers to express their personalities. Whether adorned with intricate embroidery or kept minimalistic, kurta pyjama sets exude an air of refinement that is perfect for cultural events and festive celebrations.
     Beyond their aesthetic appeal, men's kurta pyjama sets are incredibly comfortable. The soft, breathable fabrics ensure ease of wear, allowing the wearer to move with grace and confidence. Whether attending a wedding, festival, or family gathering, these ensembles allow men to embrace their cultural roots while making a stylish statement.
Modern Elegance with Men's Kurta Pant Combinations
     For those seeking a fusion of tradition and modernity, men's kurta pant combinations offer a contemporary twist to the classic ensemble. The kurta, often paired with churidar or straight-cut pants, creates a sophisticated look suitable for formal occasions and social gatherings. The tailored fit of the pants complements the flowing kurta, creating a silhouette that is both sharp and refined.
     Men's kurta pant combinations come in a myriad of designs, catering to diverse tastes. Whether it's a solid-colored kurta paired with contrasting pants or a printed kurta matched with neutral trousers, these combinations allow men to experiment with their style while staying rooted in tradition. With the right accessories, such as elegant mojaris and a tasteful watch, these ensembles can effortlessly transition from day to night, making them a versatile choice for the modern man.
     Whether opting for the classic charm of kurta pajama sets or the contemporary allure of kurta pant combinations, men can elevate their style while honoring their cultural heritage. These ensembles not only celebrate tradition but also reflect the wearer's refined taste and appreciation for timeless fashion. With their seamless blend of comfort and elegance, men's kurta pajama and kurta pant outfits continue to be a symbol of grace and sophistication in the ever-evolving world of fashion.